Welcome to Michalka Stills, an icon challenge for singers/actresses ALY and AJ Michalka. Please read the rules, join and participate!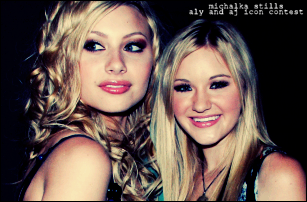 RULES
001. Only submit icons that follow the guidelines in a challenge.
002. Do not post your submissions anywhere until challenge is over.
003. Do not save other users icons and use them unless you have permission.
004. Do not use others' icons as your own.
005. No animation!

Submission Format


http://i71.photobucket.com/albums/i121/felicia_thewb/Example.png

All comments are screened.

Voting happens day after challenge is closed.
001. Do not vote for your own icons.
002. Do not ask others to vote for you.
003. You may not vote if you did not submit yourself into challenge.



RELATED AFFILIATES
danes_stillness Claire Danes Stillness

charlize_stills Charlize Theron Stills

adrien_stills Adrien Brody Stills

alexb_stillness Alexis Bledel Stillness

amber_icontest Amber Tamblyn Icon Contest

anne_challenge Anne Hathaway Challenge

djr_challenge Daniel Radcliffe Challenge

emmy_hush Emmy Rossum Challenge

grace_stillness Maggie Grace Stillness

jessica_still Jessica Alba Stills

rach_challenge Rachel McAdams Challenge

sj_icontest Scarlett Johansson Icon Contest

lilly_stillness Evangeline Lilly Stillness

kate_stills Kate Beckinsale Stills

MORE AFFILIATES

ashleymtisdale Ashley Tisdale Community

disneychannel Disney Channel Community

thetiptonhotel Tipton Icons and Graphics

philofthefuture Phil of the Future Community

To become one, comment here. Don't forget to add us, or our button, first.